plaquepics2
Page 2.
Prior to October 2003, the original plaque on site at 142 New Assembly Close, Royal Mile, Edinburgh, Scotland which was erected (prior to the Wax Museum taking over the building) by the Old Edinburgh City Council.
The original plaque is on the left side of the archway. Looking through the archway, you can just see the door of the building which was once the Wax Museum. The building is now one of the branch offices of the Faculty Of Advocates. Click on the thumbnail picture below to see a larger version.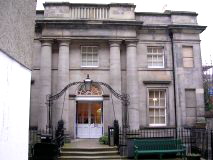 BELOW, the existing plaque on site which says:-
NEW ASSEMBLY CLOSE
MANSION OF
MURRAY OF BLACKBARONY, C.1580.
ANCESTER OF
THE LORDS ELIBANK.
IN COURTYARD WERE
DANCING ASSEMBLIES HALL
1786-84.COMMERCIAL BANK
OF SCOTLAND AND LATER,
CHILDRENS SHELTER.
Back to Page 1. Forward to Page 3. The making of the plaque.