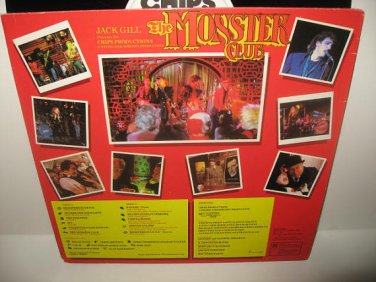 The Monster Club, rare original 1981 Vinyl Record soundtrack of the film on the Chips label. The condition of the disk is excellent, having been played only five times and has recently been cleaned in a professional lab. The sleeve is in very good condition with just slight rub marks on the edges. The buyer will also receive a digital backup copy of the record on CD (this can only be passed on to the new owner for free and so it is not included in the price).
Further details:
Prestigious think tank, The Rockford Institute of Culture, has named The Monster Club the best soundtrack of the 1980's.
Lisa Sumner used to run the online record shop specializing in rare records until she closed it down in January 2016 but you can still see her description on Etsy by clicking HERE.
See how much copies of this album has sold for by clicking these links to other past sales :-
[1] [2]
PRICE £150 o.n.o. plus postage. Contact us HERE to get further details.