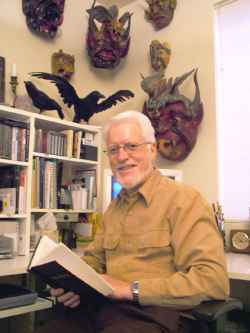 Edward L. Loveland Passed Away on 30th. May 2015
His Obituary read:-
Devoted husband, loving father and grandfather passed away on May 30, 2015. Edward, 76, grew up in Pocatello, Idaho, and spent four years in the Air Force stationed in Puerto Rico. Following his military service, he graduated from the University of Utah with a bachelor of science degree in electrical engineering. After college, he served as chief of engineering at hospitals in Columbia, Missouri; Grand Junction, Colorado; and the VA Hospital in Seattle, Washington. After retiring, he enjoyed spending time traveling, gourmet cooking, and gardening. Performing magic and creating magic routines complete with props were passions of his and he was a member of the Society of American Magicians, the International Brotherhood of Magicians, the Emerald City Wizards, the Psychic Entertainers Association, and the mentalist group 12 Plus 1.

He is survived by his wife of 12 years, Sandra Loveland, daughters Vanessa Bloy and Krista Hale, step-daughters Melissa Fackrell and Melynda Schmitt, and his sister Judy Taylor. This joyful blended family also includes eight grandchildren and four great grandchildren.
************
Karl Bartoni writes:-
I was greatly shocked and saddened to read a letter I received the other day (20th Dec.) from Sandy Loveland regarding the passing of Ed Loveland last May!! I had the wonderful pleasure of meeting Ed when he came to a number of the Edinburgh Gatherings I used to organise and he really was a terrific gentleman. He was very knowledgeable and gifted in Bizarre Magic. When he attended his first Edinburgh Gathering, he brought with him some of his only marketed effect, 'The Ashes Of Dracula' for sale and they all sold because of such a terrific story, routine and devious new principle involved. He also came up with an excellent 'add on effect' for Charles Cameron's 'Satan's Choice' effect which I used to make up and sell. Ed used to post on the Shadow Digest when it was at it's best. Below is a copy of the letter received from Sandy Loveland.
Sandy Loveland writes:-
"As many of you know, we lost my beloved Ed on May 30th. He fought a valiant fight against cancer, but his body finally had enough. He was remarkable these last few months. In February, we cruised around South America & in Brazil thoroughly enjoyed the all night carnival. While he had some balance issues, Ed was in good spirits and took & shared many photos of the amazing floats & marching bands.

During those last few months, Ed continued his usual routines & mantained a positive attitude. When I got worried he riminded me that he was getting the best care & if there was any new treatments the Cancer Care Alliance would provide it. I wasn't even aware how close to the end he was because he didn't complain about the pain& until the weekend before he entered the hospital, Ed was able to live as he always had. Then after 16 long days in the hospital he was moved to comfort care (hospice) for 2 days. The night before his passing, Moxie our 4 year old Goldendoodle was able to visit. Ed was alert & joking with us & his grin in the last photo we have of him with Moxie on his bed and grandkids hugging him, said it all. That night convinced me that what we were told about how right before the end many rally was true. Ed told the care takers the next day that he was going home and when I left him the evening of his passing, although hardly awake, he let me know he had had a great life.

Due to his wishes, Ed was cremated. In June, at a 'Celebration of Ed's Life' family and friends embraced each other and shared their cherished memories. Then in August, the family took a boat ride on Puget Sound where we enjoyed the sunset, the many decorative sail boats and with photogenic views of Seattle & Mount Rainier, according to his wishes, we left Ed's ashes.

<Photo of Ed in this part of the letter but not included in this posting> Here's my favourite photo of Ed. I'm quite sure it was one he had taken for match.com (how we met) but I like this one better because in the one he posted he wasn't sharing his unforgettable smile

My time since then has been dealing with the many things the one left behind has to do ... some days it seems endless. But I know I was fortunate to have the 10 months prior and the 12 years, 8 months and 2 days of marriage to such a wonderful guy."
Sandy Loveland.
**************